🌿

Growing in Our Relationship with Plant Allies

Learning about the wisdom of plant medicine and magick is a multi-faceted process. The stories of plants come to us through folklore and oral tradition, by classes both online and in-person, through books borrowed from libraries, bought, and gifted from generous family, and directly from the plants themselves. One way that herbalists, especially those within traditional western herbalism, compile, remember, and organize knowledge about our beloved plant allies is through creating and sharing plant profiles. It's something that I love to do in my own practice and I'm excited to be sharing with you my complete collection of plant profiles through The Plant Ally Library.
Since 2010 I've been writing about plant allies and the full spectrum of traditional western herbalism on my blog and through my courses. Over the years my readers have (kindly and patiently) asked that I compile all of my plant profiles in one easy-to-access space where they can be downloaded with ease. So The Plant Ally Library was made and I hope you'll join me within this ever-growing garden space of plant stories.
Your Instructor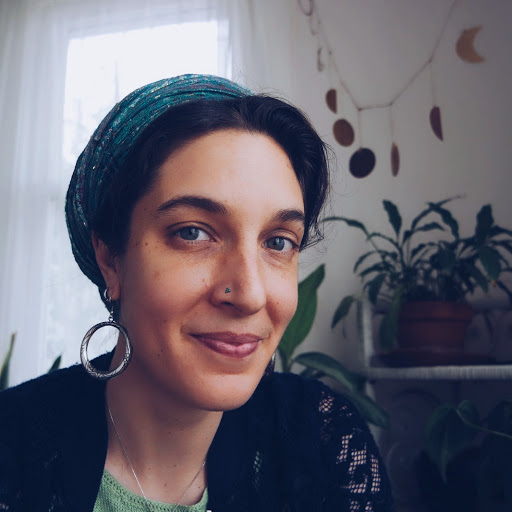 Writing and sharing knowledge about plants is one of my favorite acts of community healing.
I'm an intersectional herbalist with a background in traditional western herbalism, community organizing, and magickal practice. Everything that I do, I try and center from a place of compassion and curiosity, consideration for those who have gone before and those who'll come after, and by my own experiences as a nonbinary lesbian (she/they), mixed womxn, and practicing witch. My ever desired goal is that what I offer helps people to find all their ways back home to themselves.
Writing stories about plants and wild-seeding knowledge about their healing ways - from ancestral traditions to modern innovations and futuredreamings - is one of the ways that I'm working to create a more kind and more just world. It's brings me a lot of joy to be able to share these plant profiles with you and I hope they bring you joy in turn.
Learn more about my work and who I am at Worts + Cunning Apothecary.
What is The Plant Ally Library?
The Plant Ally Library is my most current and ever-growing collection of plant profiles from all of my courses as well as profiles exclusive to only this space. These plant profiles are written from the perspective of an herbalist who practices the full spectrum of traditional western herbalism from modern evidence-based care, folkloric studies, and magickal practice. If you love the plant profiles you've found via my blog and want an easy to print version - The Plant Ally Library is for you. If you've been wanting to access all of my plant profiles without having to sign-up for my courses - welcome to The Plant Ally Library. If you want to support my ability to continue to write plant profiles for everyone, joining The Plant Ally Library helps me achieve this.
Currently, there are over 45 plant profiles within The Plant Ally Library and I plan on adding a handful of new ones each year, complete with hand-drawn watercolor illustrations. Every time I write a new plant profile, whether it is for my blog, a new course, or my patrons, it'll show up automatically here. Speaking of my beloved patrons, they get access to PAL for free as part of their membership - so if you like communities full of friendly plant folk and exclusive resources, come on over.
All of the plant profiles are accessible to read online as well as download as PDFs. I've also included correspondence charts modeled on the ones that I use in my own practice, which help you to quickly find an herb you're looking for based on their traditional western energetic or astrological qualities. I plan on growing this part of the library as time allows and will always let you know when the course has been updated with a new profile or resource.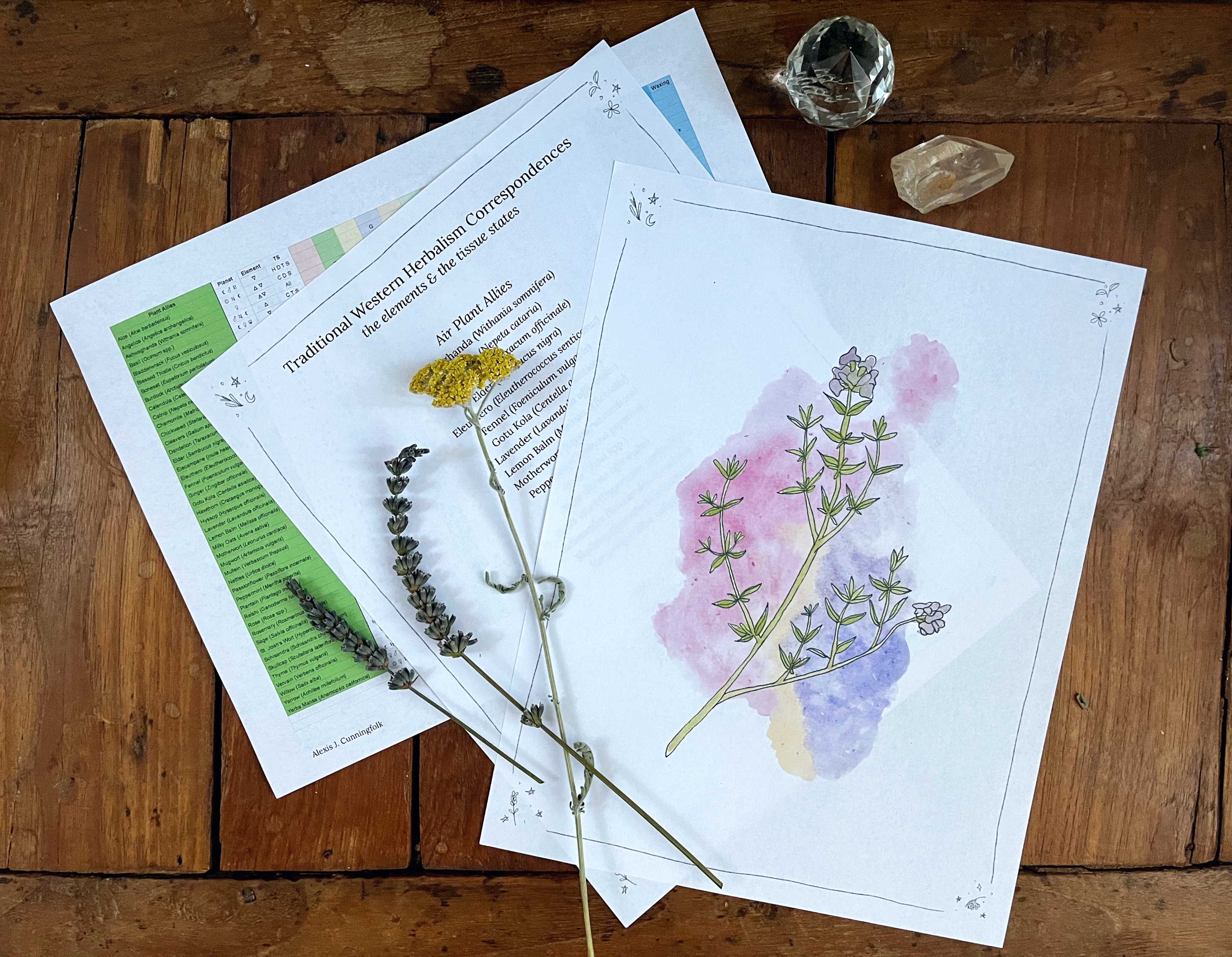 What The Plant Ally Library Is Not
The Plant Ally Library is not a course - there are no tutorials on how to make herbal medicine or developing a magickal practice. There's no noisy social spaces or projects to get done. Instead, The Plant Ally Library is a sweet and simple library-like place where you can check out dozens of plant profiles to support your herbal studies whenever you like.
If you are looking for a course with more remedy-making tutorials and explorations of what it is to be called to the work of an herbalist, check out The Lunar Apothecary. For my tarot readers and herb folks who occasionally cast cards, The Tarot Apothecary is the space for you. Finally, for my beautiful highly sensitive folks and empaths (as well as those who serve them), I've created Solace just for you.
What Students Are Saying
"The Plant Ally Library is a wonderful collection of Materia Medica and other herbal resources. An extremely well priced introduction to Alexis' content, or well condensed source for their materia medica for those with access to their other courses. Highly recommended for those starting out in traditional western herbalism, or just those wanting to get their hands on more resources. Highly recommended." ~ Alexis Zephyra
"This is just the best….expertise and wisdom throughout the course and VERY reasonably priced. This is such a great resource for any learning or practicing herbalist." ~ Donna

"The Plant Ally Library is a beautiful collection of herbal Ally's. Perfectly crafted, easy to work with, accessible in web form and printable pdfs too. The detail and love poured into the artwork, the corresponds & information all around is perfect. I will use this PAL often ❤️" ~ TEW (@hazybotanicals)

"The knowledge shared in [The Plant Ally Library] thorough and generous." ~ SJU
"This is such a phenomenal resource as I develop a plant profile notebook to resource and study in the years to come. It is thorough and feels like such a complete profile. I love having different insight into the plants and this was so worth the investment. Love it!" ~ Donna

Frequently Asked Questions
How long do I have access to the course?
How does lifetime access sound? After enrolling, you have unlimited access to this course for as long as you like - across any and all devices you own.
What if I am unhappy with the course?
I recognize that not every course is going to be a good fit for folks, so if you are unsatisfied with your purchase, contact me within the first fourteen days after enrollment and I will issue you a full refund.
I'm a patron and would like access - how do I get it?
Sign into patron and go to your membership page. In your membership welcome letter you'll find the discount code needed to join The Plant Ally Library for free.
Do you ever have sales?
Yes! Since I offer The Plant Ally Library on a sliding scale, two times a year I'll be offering an Extra Support Membership price of $12 for folks who would still struggle to purchase the course at a Supported Membership cost. The dates that the Extra Support Membership will be available in 2022 are: February 24 - March 1 and August 28 - September 4. Sign-up for my newsletter to get reminded about these dates → http://www.wortsandcunning.com/magick-mail
Do you cover magickal as well as medicinal qualities of plants?
I sure do! Be sure to check out the sample plant profile in the course curriculum to get a glimpse at all that is covered in each plant profile.
How often is The Plant Ally Library updated?
A few times a year. Whenever I write a new plant profile I'll upload it to the library and let everyone know via email. Be sure to sign-up to receive emails from the library when you join so you'll always be notified of updates. There is also an update log within the library where I'll post all changes and updates to our space.
I can't afford the current course cost. Do you ever offer payment plans?
I do not offer payment plans for The Plant Ally Library because of its already low price. However, during the period that I offer extended payment plans for my other courses, I'll be offering a fourth payment option of an Extra Support Membership at $12 for folks who would still struggle for pay $21 for the course. The dates that the Extra Support Membership will be available in 2022 are: February 25 - March 1 and August 29 - September 3.
What is the course material like?
The course is comprised of written material both accessible in the online library and made available as PDFs to download and print.
Do you plan on increasing the price of The Plant Ally Library as it grows?
Yes. There will probably be a small increase in price every year or so. But once you join you won't ever have to pay again - you just get to enjoy the ever expanding library for whatever price you initially paid for it.
How much of this course is generated by AI?
None! All of my courses are free of AI-generated content.
Creating Access
or how to pay for The Plant Ally Library
In the spirit of financial accessibility, The Plant Ally Library is offered at a sliding scale (if you are unfamiliar with the sliding scale and where you might fall on it be sure to read my quick guide below before purchase). You can purchase The Plant Ally Library for as little as $12 and there are also opportunities to pay a bit more and support the lower tiers of enrollment.
While I encourage you to read my full thoughts on the sliding scale here is a very brief rundown:
Standard Membership at $27 is the actual cost of the class. If you choose a ticket price below this tier you are receiving a discount.
Supported Membership at $18 is for those who are able to meet their basic needs but have little-to-no expendable income. Paying for this class may qualify as a sacrifice but it would not create hardship.
The Pay-It-Forward price is $30 - a few dollars above the actual cost of the class. That extra money goes towards supporting the lower tier of the sliding scale, scholarships, and future free and low-cost classes. Essentially it's an opportunity to not only take your class but also support your fellow community members while you're at it. Sweet!
Two times a year (when I offer extended payment plans for my other courses - see FAQ) I offer an Extra Support Membership for $12. This level is for those who struggle to meet basic needs and paying for this class is possible at this level, but still a hardship.
🌿
Excited to dive deep? You can sign up for The Apothecary Student Bundle or The Complete Course Collection and save 10%!
🌿