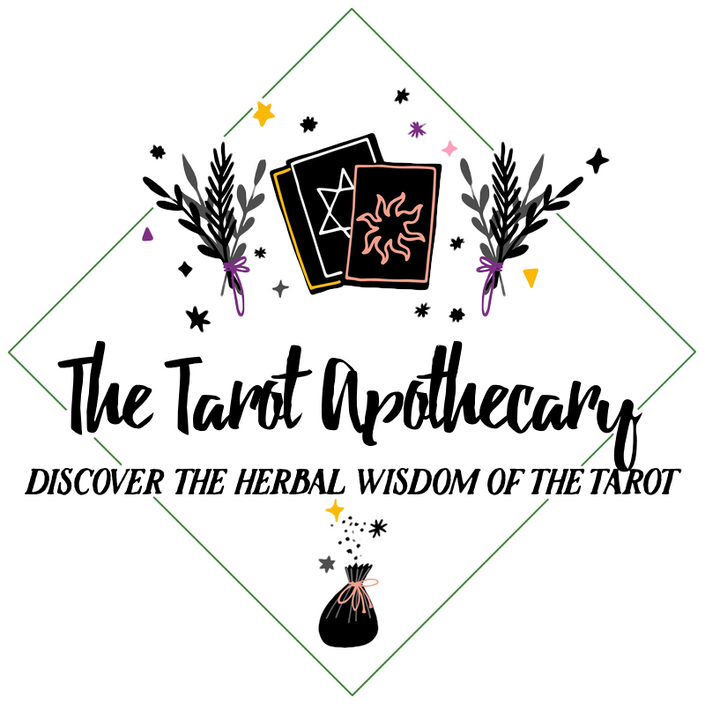 The Tarot Apothecary
discover the herbal wisdom of the tarot
The tarot is not just images on cards but stories of the stars, counter-cultural messages, and hidden hermetic philosophy leading us on a path of self-discovery and healing.
🌿

You live an intersectional life - your tarot and healing practice should reflect that.
One of the most valuable aspects of the tarot is its intersectionality. In The Tarot Apothecary we'll look at traditional meanings of the cards along with their astrological correspondences and elemental nature to help us make connections with the vibrant world of plant healing.
Tradition affirms what so many of us have been trying to reclaim - a complex intersectionality of healing work. The tarot is not just images on cards but stories of the stars, counter-cultural messages, and hidden hermetic philosophy leading us on a path of self-discovery and healing. Applying the powers of our deeply personal intuition to interpreting the tarot guides us beyond the framework of tradition into new visions of inclusivity and storytelling. Tarot is a practice that survives and thrives hundreds of years after its creation because it is so adaptable and useful in its ability to change and shift for the needs of each new generation of tarot reader.
"This course is so much more than I hoped for and I'm savoring every nugget. Tarot, herbs, astrology, magick... how did you cram so much into this and still have it affordable and completely accessible and not overwhelming? You, Alexis, are magick!" - Christine
What The Tarot Apothecary Is + Is Not
It's important to highlight what this course is not. In The Tarot Apothecary you will not be taught how to diagnose in any way, shape or form using tarot. Nor will you be taught magickal cures to all that ails you or how to become a tarot reader or an herbalist. There isn't any fatalism or binary-only options within this course that paint the world and your life as pre-determined and limited (there's enough of that going around already, thank you very much).
What you will be taught in The Tarot Apothecary is far more valuable. You'll be taught how to observe your inner workings with the tools of plant and card. In turn, you can help others do the same if you are called to serve as a healer. You'll learn how to connect with the tarot as not only a tool of divination and self-reflection but one of healing. The tarot is very good at describing hidden needs, elemental excess and lack, and patterns of the personality which affect our health. You'll be shown how to honor the wisdom of your body and your intuition to help you make choices regarding your wellbeing that is centered in the uniqueness of your needs. Finally, you'll learn how to interact with the tarot as a living materia medica full of plant wisdom and star knowledge to incorporate into your healing practice.
"I absolutely love your class. It came at the perfect time. I've had a tarot block for about six months. I would stare at the cards and feel nothing. I decided to do a tarot reading asking about how to read tarot again. The next day I found Tarot Apothecary in my mail box. I'm reading my cards everyday and connecting with them on a much deeper level since starting class." - H
In The Tarot Apothecary You'll Learn: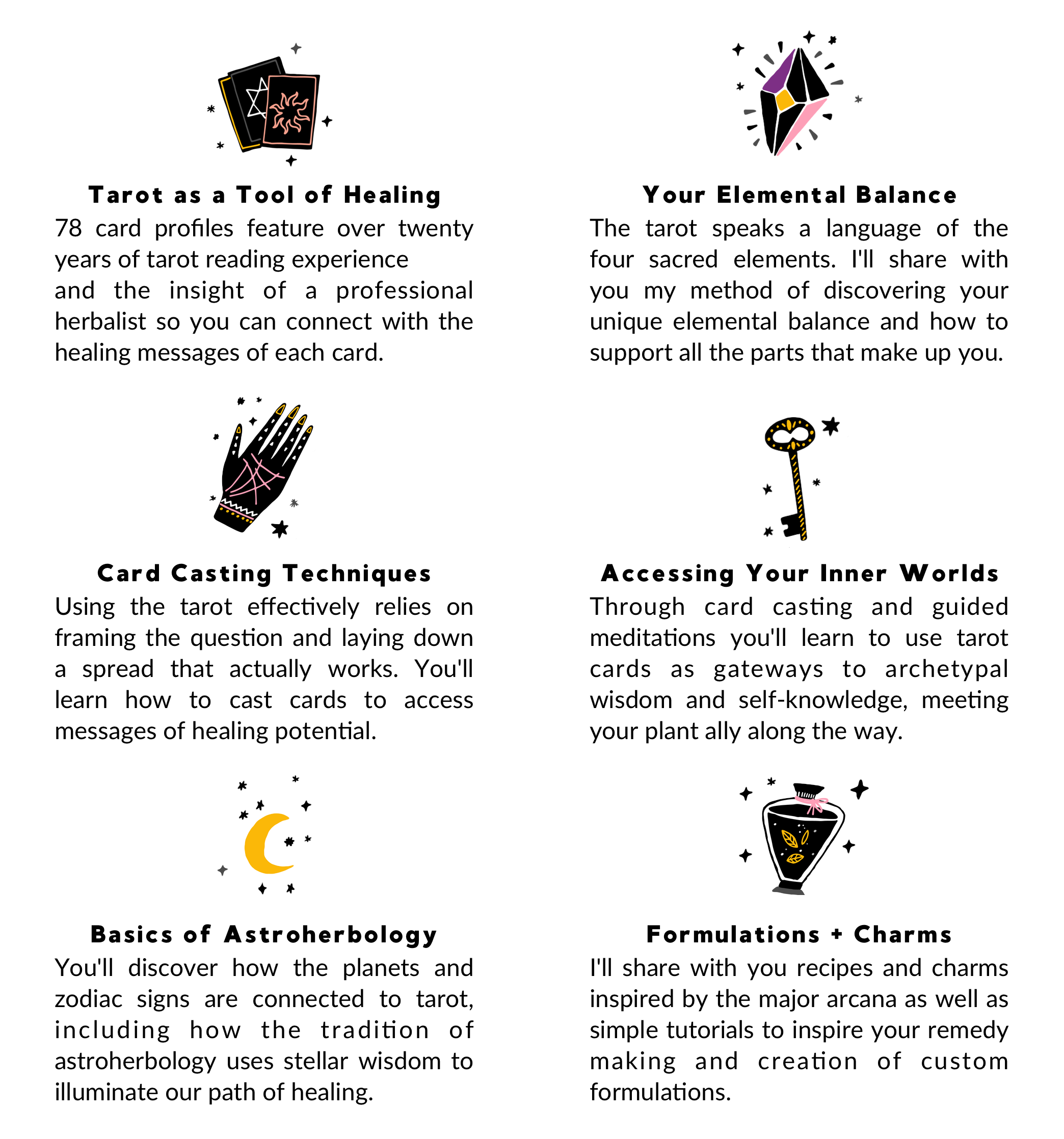 Tarot is a practice that survives and thrives hundreds of years after it's creation because it's so adaptable and useful in its ability to change and shift for the needs of each new generation.
As Part of the Course You'll Receive: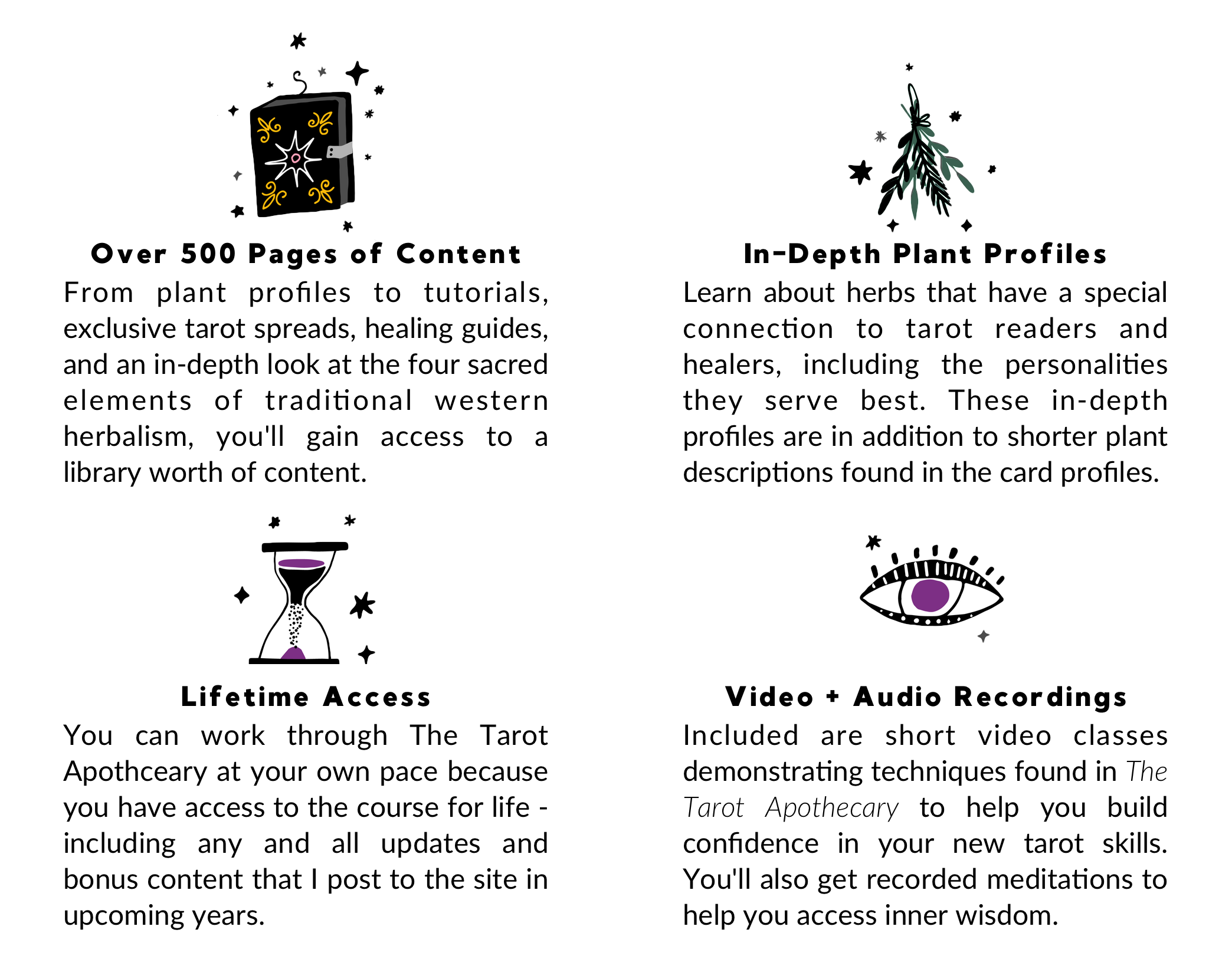 "I like the format of the course and the breadth of the content. I can learn and play for hours at a time and then come back to it another day. It's full of deep connections with tarot and practical information on herbalism." - Rachel
Your Instructor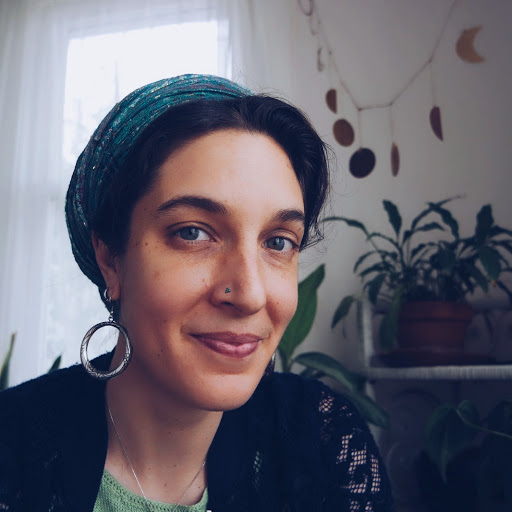 The world of tarot and herbal healing have been intertwined for me since day one.
I'm an intersectional herbalist, magickal mentor, and weaver of remedies who was lucky enough to have herbalism and tarot come into my life at the same time. Through my practice I've learned that the tarot, when combined with the wisdom of herbal medicine and magick, is a profoundly powerful tool of intersectional healing.
And we need more tools that are as complex and radiant as we are.
My intersectionality, and the reason I do the work that I do, arises from my lived experience as a nonbinary queer, a mixed-race womxn, and a practicing witch. I'm sharing this work with you because I think we all deserve the tools that help us to be who we are in all of our wisdom and complexity.
I hope you'll join me in my circle of tarot readers and healers looking to discover just how wild and liberating our magick really is.
"Thank you for creating The Tarot Apothecary. The Lunar Apothecary opened up parts of myself that I thought I lost years ago (from years of psychological trauma). The Tarot Apothecary is helping me use herbs and tarot in different ways to further both self exploration and healing. Most importantly, I HAVE LEARNED SO MUCH about herbs and tarot. It's packed with so much information and resources. I feel so very lucky to have stumbled upon this. Again thank you so much for all the time and personal energy you put in your courses. We (your students) see it, and it is so very appreciated." - Candice
Course Curriculum
Welcome to The Tarot Apothecary!
Available in days
days after you enroll
Part 2
Available in days
days after you enroll
I love the course because is very easy to go through even if are a complete newbie at tarot like my self. The amount of information on plants, astrology and the tarot cards is priceless! It's the first course I know of that is purely focus on healing aspects of tarot. - noe
Frequently Asked Questions
When does the course start and finish?
The course starts now and never ends! It is a completely self-paced online course - you decide when you start and when you finish.
How long do I have access to the course?
How does lifetime access sound? After enrolling, you have unlimited access to this course for as long as you like - across any and all devices you own.
I'm brand new to tarot. Can I take this course?
If you are brand new to tarot I recommend taking this course along with investing in a course and/or book for beginners. Check out my resources section in the syllabus above for my recommendations on beginner's courses.
I don't know anything about herbalism. Can I take this course?
I recommend having a working knowledge of herbalism before starting this course. You don't need to be an herbalist but having a couple of good materia medicas and a passing familiarity with the basics of herbalism would do you well. Check out my resources section in the syllabus above for my recommended books and courses for beginners.
What do I need for this course?
Your curiousity, a pen and notebook, a deck of tarot cards, a couple of good materia medicas (that is, books full of profiles on healing herbs - check out my resource list in the syllabus above for recommendations), and your favorite tea cup.
Do I need a specific kind of tarot deck? Like the Herbal Tarot?
No, though I do recommend using the Pamela Colman Smith (PCS) tarot (aka the Rider Waite Smith, Waite Smith or RWS tarot). It's a keystone tarot meaning that if you learn to read with this deck you'll be able to read with most others. It aligns well with the traditional astrological correspondences of the tarot (which are important to understand when connecting the tarot to plants). There are many variations of the PCS tarot if Colman's original art isn't quite to your taste. If you don't have a PCS deck, you can still work through the course just fine. Use whatever deck you find most inspiring and adapt the course material as needed. If you do have a PCS deck but don't use it regularly, I recommend pulling it out for this course.
What about gender? Do you talk about masculine and feminine aspects of the card?
The Tarot Apothecary is a binary-free course (woohoo!) and I don't use labels of "masculine" and "feminine" in my practice as I don't find them to be useful labels or easily applied to the complexity of lived experience.
What if I am unhappy with the course?
We would never want you to be unhappy! If you are unsatisfied with your purchase, contact us in the first 30 days and we will give you a full refund.
I can't afford the current course cost. Do you ever offer payment plans?
Yes! In 2021 I will be offering a four-part $21 a month payment plan that you can sign up for from February 25 - March 1 and August 29 to September 5. Sign-up for my mailing list (http://www.wortsandcunning.com/magick-mail) for reminders of these dates.
Do you ever have sales for The Tarot Apothecary?
Yes! Once a year I have an annual sale for all of my ecourses. In 2021 the sale will happen from June 18 - July 2.
Do you offer course bundle discounts?
Yes! You can sign up for The Tarot Apothecary and The Lunar Apothecary at the same time for a 10% discount. Come this way to learn more: https://wortsandcunning.teachable.com/p/the-apothecary-student-bundle.
I HAVE LEARNED SO MUCH about herbs and tarot. The Tarot Apothecary is full of information and resources. I feel so very lucky to have stumbled upon this. Thank you so much for all the time and personal energy you put into your courses. - Candice
What Students Are Saying
"The tarot apothecary is a really beautiful, accessible way to re-enchant your tarot and herbal practice and to go much deeper into taking good care of yourself and your communities. It's such a rich guide full of magic and inspiration that will guide through big and small challenges with more ease and grounding." - Yarrow

"I have been a professional tarot reader for years now. I wanted to take tarot to a whole new level. I'm new at herbology , it was wonderful how this course married the two. I was able to gain a deeper understanding of tarot. I understand much more now when drinking a warm cup of tea. I highly recommend this course to anyone new or seasoned who want to take their tarot reading up a notch. Education is never wasted, be open to what the universe has to offer, and if you've crossed paths with Worts + Cunning Apothecary, know that it wasn't by chance. High Five to Alexis for creating this, I look forward to always learning more. " - Luiza
"Tarot Apothecary was like coming home. Every bit of it, was like a journey to the deeper ancient wisdom that I knew was there, but Alexis helped guide the way to it." - Ashley
"OMG, where to start. Learning the connection between plants, tarot and ultimately how they can help us in our healing journey is fantastic. I feel empowered to heal physically, emotionally and spiritually thorugh the tools in The Tarot Apothecary. I was pursuing learning plants and tarot separately, but the tarot apothecary makes this integration very smooth, deep and intuitive! I can ask a question, and go into what the cards mean to me at a more deep and intuitive level, and access the healing, and the MAGIC they are taking me in. I am using it in my daily life, as I long to reconnect with plant, the earth and my own healing! This course has been a profound self- healing journey!!" - Johanna
"Cunningfolk's approach to connecting with herbs was very refreshing and allowed me to feel more comfortable exploring and learning how to connect with herbs, tarot, and astrology in my own unique way." - SP

"I love this class. Alexis Cunningfolk's gentle, healing approach led me easily into a deeper understanding of the plant spirits. The card and plant profiles are fantastic. Working with Alexis' spreads, I have found several plant allies to give me insight into how to grow projects I am working on. The idea of Tarot as a healing tool is so beautifully approached in this class and has grounded me in both my Tarot and plant spirit practices. My "busy mind" has quieted down and I can rely on the cards and the plants to show me what I need to know." - Susan
"[The Tarot Apothecary] is a lovingly put together course, that provides a gentle but insightful journey into the cards and how they may bring healing in your life. " Louise

"The Tarot Apothecary helped me see the connection between divination and the physical herbal world." - Ashley

"The course is filled with so much information that is wonderfully thought out and organized. Cunningfolk makes connecting the tarot with herbs and astrology so simple and altogether fascinating, especially for anyone new to either world. I found the course fun and easy to follow as it provides a gentle yet stern approach to growth and improvement, both in foundational knowledge but also experiential understanding of the topics. It was a pleasure working my way through the course and I found myself more and more excited to jump back in. Thank you for all of your hard work Alexis J Cunningfolk, you are appreciated" - SP
"The Tarot Apothecary helped me dive deeper when I got a card, I could reflect on the healing path that card was asking me to go into! Also, which allies I could use to connect deeper into the inquiries and receive support from." - Johanna

✨
Looking for more intersectional magick and healing?
If you are interested in enrolling in The Lunar Apothecary and The Tarot Apothecary at the same time at a discounted rate, come this way.
I am always looking for the intersection between plants, tarot and astrology to create magic in my and my clients lives. This is it! - Deb Accuardi